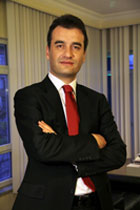 Since the year of 2001 in which we have been established, we have presented our aliveness in the sector through our strong values and philosophy. Because we have moved to the future with safe steps by our planned vision.
We believed that "vision is a dream without action","action is spending time without vision" and we could reach our aims with "a vision having an action", and change "the world".
In a short period of time, we have reached the prestige of a company integrated with the perceptions of "
pioneer, leader, esteem, quality and safety
".

Our secret is our philosophy...
In the areas we serve, with our customer satisfaction focused, qualified, accurate and promptly realized projects, coming forefront of our  competitors, we have succeeded to sign the effectual and added value producing projects to our people and country.Through our sustainable growth perception, dynamic structure and rational solutions, we have succeeded to be a brand in the minds.We have turned our philosophy which we stated in the establishment into "AYNA YAPI" brand with the projects we have produced.
We build the pleasant and the great projects through reaching the maximum proceeds by the accurate, functional solutions for Turkey, our people.

Quality is our lifestyle...
As AYNA YAPI, we have adopted the quality as lifestyle. Because we assume that quality is a product of a moral philosophy. We believe that quality is an endless journey and we could be successful with the best solutions throughout this journey. We produce solutions fitting on our people by not conceding from our basic values, and following closely the innovations and the developments about our sector.
We realize our commitments in time and perfectly by the quality of AYNA YAPI, and provide our associates and customers with confidence place. We are aware that the perception realized by the four of quality, confidence, esteem and prestige has given us more power.
We turn this perception of us, having strengthened by our philosophy, into strong sectoral savings by making differences in every projectthat we produce.
We build the future with our awareness of human, social responsibility, and environment
Human focusing perception constitutes the greatest power of AYNA YAPI. In our every project, we admit our environment awareness, workplace  health andsafety as our indispensibles.
We constanty work through providing suitable places for protecting and reforming of our labor and these processes to instill to the corporate culture as inseparable parts.
The responsibility we have for the environmental values strengthens and it is reflected into the project we produce with the knowlegde of our borrowing the world from our children rather than inheriting it from our ancestors.In all the areas we serve, we move with the vision of "creating value", "producing added-value" to the nature and human
through our perception of social awareness. We buid this perception for the future.

Our long term point of view makes us stronger...
"You must be the change you wish to see in the world." says Gandhi...
We have been walking by strong steps with our long term point of view, strengthening the influential, esteemed, and safe structure
of the brand "AYNA YAPI".
AYNA YAPI, with the strength and excitement taken from its corporate structure, and its quality, safety based business perception, is going to continue producing the safe, righteous and decent, and building added-value creating projects.
Our Best Regards...
İsmail Yerlikaya
Chairman of The Board